Measure your foot length and width
First: measure your foot length ( A , heel-to-toe) while standing. Then measure your foot girth ( B  width around broadest part of foot).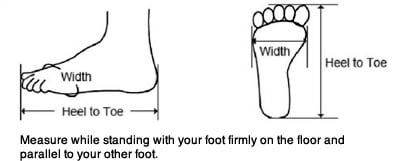 Measure your feet length and girth (width + circumference) for BOTH feet.
Measure also your legs for boots (see below)
Then look up the matching size for the specific Giaro model. 
Choose the available size in our shop.
Fit the heels at home on a clean and soft surface.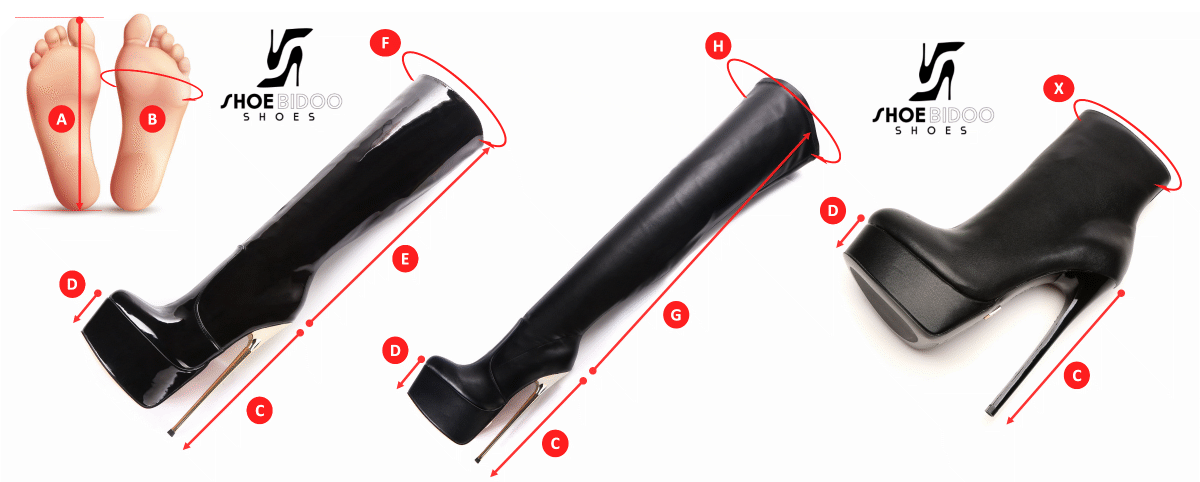 If you are buying boots, measure the other sizes ( C  to  H ) for your leg depending on the model you selected. Measure both legs and choose the highest values to get the right size. Measure around ankle ( X ) for ankle boots only. 
Are you in doubt or having questions? 
When still in doubt, take your feet and leg measure yourself (see Measure your feet) and then contact us: [email protected]. Give us your regular shoe size in EU (like the Gucci's or Louboutin heels you normally wear), what model you like to buy and provide us with your measurements. We can then give you an advice what size to choose for the specific model. 
Do you have a USA or UK size only? Here is a generic conversion table to EU sizes. 
Fitting high heels
Tips & tricks for fitting our high heels: 
When you receive our shoes, please let them warm up to room temperature first.
Try on the shoes on a carpet or soft underground. This way the shoes will not be damaged when you try them on and they can still be returned to us. Leave all labels and stickers on the shoes and the box for the same reason.  
Put on a sock or nylon before trying the high heels. Nylon make it easier to slip into shoes and boots.
If boots are a bit big you can wear a ticker sock. Lots of boot lovers actually buy one size bigger so they can wear their boots with tick socks for added comfort. 
If boots do not have enough room to close around your leg, let the material warm up a little more to your leg temperature, and try again. Do not try to close zippers with force. 
When closed let the shoes warm up a little to your body temperature before trying to walk. The material needs some time to adjust. 
Walk a little on the heels to check the fit. It normally takes at least 5 minutes before the fit is OK and will not change. If they feel OK, perfect. If not; contact us and ask for a size exchange. 
Maintenance, upgrades and repairs
For most of our heels the heel tips can be replaced. Contact your local cobbler to get the right heel tips. We love the guys from www.stiletto-heel-tips.co.uk. 
The above heel tips shop offer an DIY upgrade option by replacing the plastic heel tips with metal tips. This not only improves the durability but also adds the nice clicking sound to every step you take. Replacement tips also available at http://www.stiletto-heel-tips.co.uk/. There is also an option to get extra hard plastic tips if you don't like the metal sound. We don't have these heel tips available in our store. 
Another upgrade option for DIY fans is to colour the soles yourself with adhesive material or paints. Our customer @Admiringheels does a great job with coloured soles with all our shoes with a beautiful result.